High gas prices and airfare are causing many Americans to consider staying close to home for their summer vacations.
About six in 10 travelers said rising gas prices will impact their travel plans this summer, according to a March 2022 study by Longwoods International. Tourism leaders from across the state said they believe this is also the case for Arkansas residents.
...
"[Visitors] can come here, they can see our museums, they can experience our cuisine," President and Cheif Executive Operator of Visit Bentonville, Kalene Griffith said. "It's an affordable trip for them to come to the area and get an experience without paying large amounts of money for gas by going a long distance."
Posted by Olivia Alexander on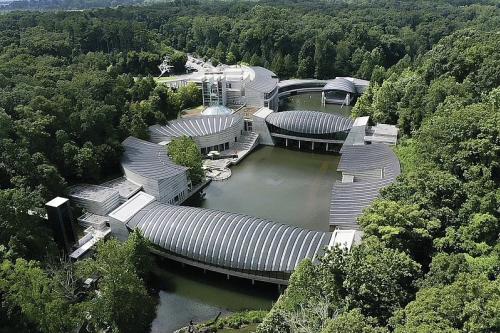 The Crystal Bridges Museum of American Art is shown, Sunday, June 27, 2021 in Bentonville. Check out nwaonline.com/210711Daily/ for today's photo gallery. (NWA Democrat-Gazette/Charlie Kaijo)