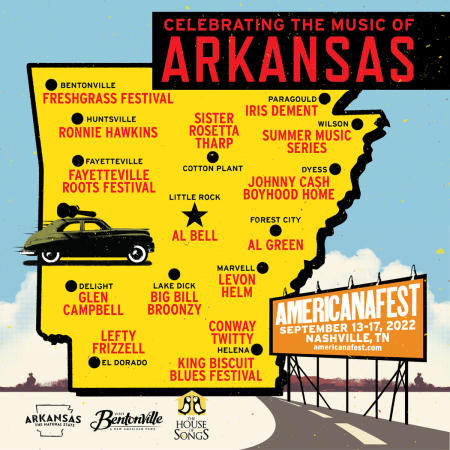 This year, the Americana Music Association has selected the state of Arkansas as the regional music focus for its 22nd annual AMERICANAFEST, Sept. 13-17 in Nashville, Tenn. In partnership with Arkansas Tourism and Visit Bentonville, the destination music festival and conference event previews this special programming today that features multiple panels, special events and a music showcase over four days. Highlights include a panel focusing on the life and legacy of Johnny Cash; a special event with the brightest, upcoming Arkansan artists that are pushing the Americana genre forward; and an evening showcase of music with a star-studded tribute to Levon Helm. A full slate of programming can be found here.
"We're beyond thrilled to spotlight the state of Arkansas at this year's festival and celebrate its rich musical heritage," said Jed Hilly, Executive Director of the Americana Music Association. "Through this programming, attendees will be able to experience the sounds of delta blues, rockabilly and Ozark folk, as we welcome our friends from the Arkansas tourism, music and creative industries who have built and are expanding the tradition of Americana."
The Natural State has produced some of the most diverse and iconic pioneers of American music and contributors to the American songbook. From Sister Rosetta Tharpe, considered to be the birthmother of rock and roll, to Louis Jordan who ignited the move from rhythm and blues to rock and roll. Directly influenced by these local pioneers, Arkansas gave the world Johnny Cash, Charlie Rich, Al Green, Levon Helm, Ronnie Hawkins, Glen Campbell, Albert King, Howlin' Wolf and many more. Two of the most significant artists mentioned in any of the writing about the roots of Americana music are Levon Helm (and The Band) and Johnny Cash, both Arkansas natives.
Posted by The American Music Association on August 18th, 2022