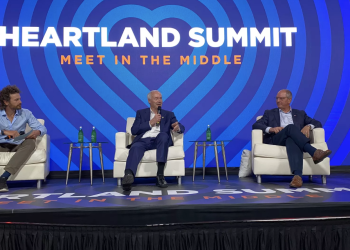 Downtown Bentonville was buzzing Thursday with talk of everything from jet packs to tax credits and venture capital to partisan politics.
More than 350 people from across the U.S. convened at the Record for the Heartland Summit.
Details: Full audience panel discussions included speakers Gov. Asa Hutchinson; Chelsea Clinton, vice chair of the Clinton Foundation; and Jamie Dimon, CEO of JPMorgan Chase.
Breakout sessions on healthcare, education, transportation, energy and the adventure economy gave guests opportunities to dive deeper.
Why it matters: The objective of the summit is to assemble decision-makers and influencers to collectively elevate local and regional economies in the heartland.
The big picture: A recent report from Heartland Forward found that between 2010 and 2019, workers slowly migrated from the coasts to the 20, central-heartland states.
The pandemic accelerated that movement because more workers than ever can choose to live where they want for quality of life.
Story by Worth Sparkman | Axios NW Arkansas