With more than three hundred miles of dirt trails, this part of Arkansas has a wonderful arts scene to boot. 
By Pam LeBlanc | May 2021| Texas Monthly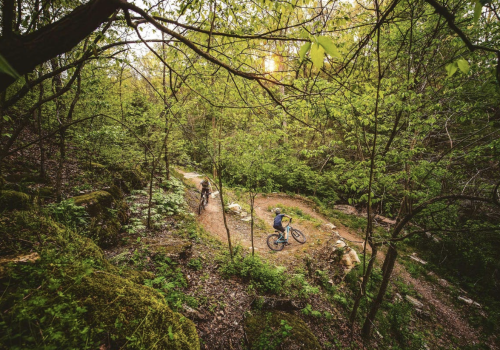 I'm poised at the top of an undulating sculpture called the Masterpiece, my knobby-tired mountain bike pointed down the barrel of a rippling metal pathway. This 928-foot piece of "rideable art" looks like an industrial conveyer belt made of oversized bike chains and steel mesh, and when I start rolling down it, gravity takes over. The experts ride it fast, purposely going airborne where the "trail" swoops up and curves over a bridge, but I'd rather keep my wheels on the ground. Still, the feeling of flowing down the hill makes me hoot and holler like a twelve-year-old.
I've come to Bentonville, Arkansas, to check out the bike scene, but just as this stretch of trail blurs the lines between bike path and sculpture, I've found that the whole culture here focuses as much on museums and public art as it does pedaling. Toss in plenty of good coffee shops, a hip hotel, and a respectable dining scene, and it's easy to understand why adventure travelers as far away as Austin are buzzing about it. Bentonville alone is home to more than 150 miles of bike trails, including dirt single-track trails tucked behind curtains of trees and graded similarly to ski runs for beginners, intermediates, and experts, as well as the 40-mile paved Razorback Regional Greenway.