This Arkansas boomtown continues to be a visual wonderland, from a world-class museum to sculpture-studded nature trails. But you'll also eat and drink well, too.
---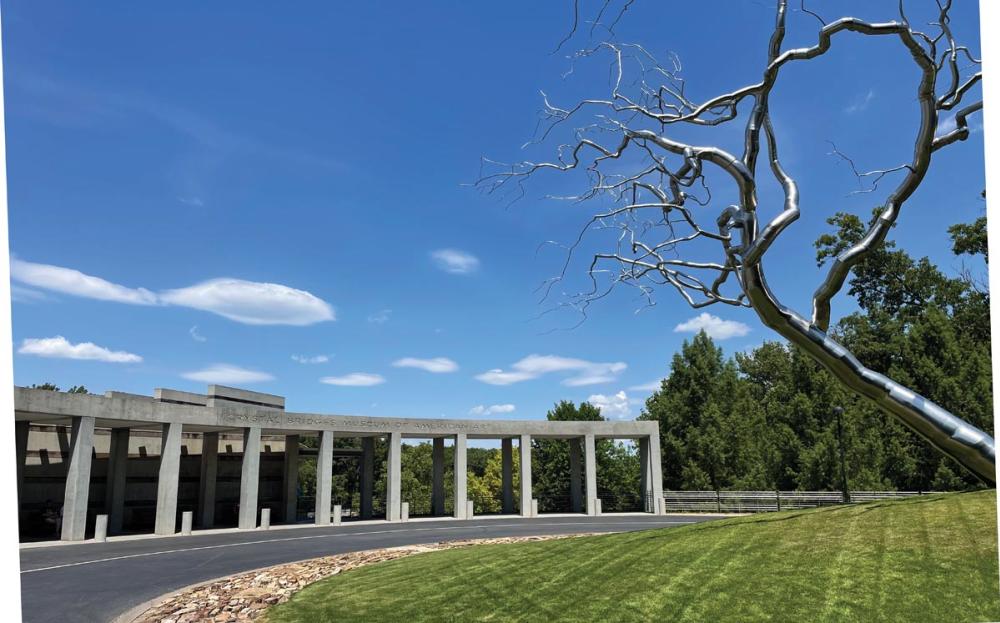 Roxy Paine's Yield is rooted in front of the entrance to the Crystal Bridges Museum of American Art. (Paine also has an installation at the Modern Art Museum of Fort Worth.) The tree sculpture complements the natural surroundings of Crystal Bridges, which is undergoing a massive expansion. Photo by June Naylor
---
Bentonville is perhaps the buzziest boomtown you haven't yet experienced. And before you say, "Oh, I went when the art museum opened," take note: It has been almost 11 years since Crystal Bridges Museum of American Art made its debut in Northwest Arkansas and triggered a growth explosion transforming this corner of the Ozarks into a bona fide hot spot.
Never mind the irony that a sophisticated burg arose from the town first known as Walmart's headquarters. Thanks to the vision of museum founder Alice Walton — the philanthropist daughter of the late Sam Walton, the retail giant's founder, and part-time Fort Worth resident — this world-class museum draws visitors from everywhere. And credit new businesses and residents relocating from California, the latter spending $1 million or more for homes there, for adding to the town's growth.
Plan a long weekend to explore everything; late October through November, when the forest is a riot of color, is prime visiting time. If you've been there before, you're in for great surprises — Bentonville is changing faster than you can read this story.
Written by June Naylor. Posted on August 29th, 2022, by 360 West Magazine.
---
THE DETAILS
Bentonville
Getting there. It's about a six-hour trip by car. The route goes through Denison and across the Red River, then across Lake Eufaula in Oklahoma. Picking up I-40 east to Fort Smith, Arkansas, the landscape gets greener, with pretty elevations. The remaining drive up I-49 offers great Ozarks scenery.
Pit stop. Make time for a quick spin through the Walmart Museum, attached to a replica of the five-and-dime store Sam Walton opened there in 1950. Exhibits showcase the founder's humble office and his trusty 1979 Ford pickup truck. The on-site Spark Café is an old-fashioned ice cream parlor.
What to take. Sturdy walking shoes; your bike and cycling gear; an appetite for exceptional food and drink.
Book it. Reserve an ultramodern room at the 21c Museum Hotel, from $260; or a choice Airbnb option, such as the 8th & Main Bike Bungalow. (Find more rentals at bentonvillesquaredistrict.com and watch for new boutique hotels, too.)