As we celebrate International Women's Day 2021, we want to thank all the women in our Bentonville, Arkansas community who create, lead, and inspire us every day. Two such examples in our community are Danielle Hatch, a multidisciplinary artist and arts educator, and Traci Rae Monas, a folk singer-songwriter and poet. We asked both ladies to share their stories.  Here's what they had to say.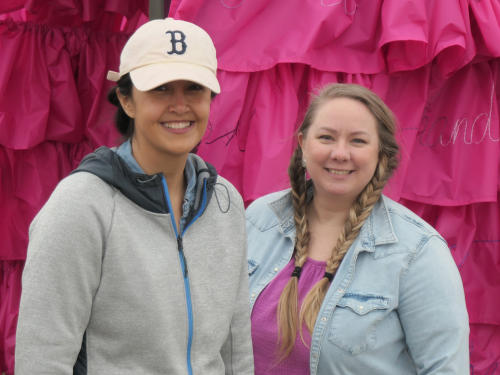 Danielle - Three years ago, my husband, kids, and I relocated to Northwest Arkansas because we fell in love with an old house on a few acres on Peach Orchard Road. We decided that we wanted to feel more connected to nature after living in large cities and suburbs for many years. At first, we lived in a camper, collaborating with local architect Bradley Edwards to renovate the home in a way that engages meaningfully with the landscape and feels representative of our family's history. 
Putting down roots in Bentonville over the past few years, we've come to appreciate so much about the community. From weekly trips to the farmers market to walks and bike rides at Coler Mountain Bike Preserve, to the great friendships we've made here. It feels rare to be in a small city that invests so much in public spaces, infrastructure, and the arts. In addition to my own art practice, which is housed in my studio in a renovated barn on our property, I've worked as an art instructor and Museum educator at Crystal Bridges Museum of American Art for the past two years.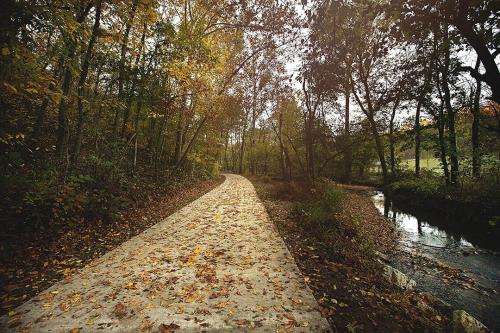 I was recently inspired to launch a new personal project called Guide These My Hands, which was created in response to a call for public art proposals from local artists in the summer of 2020. Poetry has been a point of inspiration for some of my past sculptural projects, so I was excited to collaborate with a friend and local poet, Traci Rae Monas, and explore her poem, "Foothills Healer," in a three-dimensional and tactile realm. 
As 2020 marked the hundredth anniversary of the 19th amendment, we began thinking about an artwork that explored the history of women in this region. After some research, with help from the Shilo Museum, we discovered that the first female mayor and city council in the country was elected just South of us in Winslow. These women were dubbed the 'Petticoat Government.' The idea was compelling and spawned our art project, Guide These My Hands, where we took this pejorative moniker and embraced fabric as a material that could be used sculpturally. The gabled structure is meant to evoke the corrugated sheds that dot the local rural landscapes with the fabric and poem itself, creating a sense of place and shelter.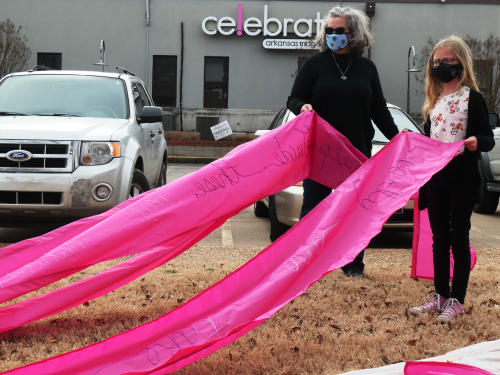 Traci - I'm finding the timing of this sculpture especially meaningful. When Danielle and I decided on the concept for this piece, I don't think we could have known how timely it would be to share a poem about women caring for their communities. But having witnessed the way we've all had to rely on our neighbors and loved ones this last year, along with the heroic efforts we've seen from healthcare workers, the poem "Foothills Healer" is resonating with me in a new way. I also love that the poem is about spring and that the sculpture has bloomed outdoors along with the very first signs of spring and in contrast to the bare winter trees and ground surrounding it. It reminds me that hope and new life are tenacious. 
Foothills Healer 
Make me of a quiet mind and steadfast heart. 
Wake me before the sap rises in the pulp 
and the buds spring forth, that I might sense 
the first stem's quiver in my marrow. Then will 
I rise early and take to the woods. I will lift mine 
eyes to these hills from whence comes my help. 
Guide these, my hands, to the sassafras and burdock, 
to the blue burvene, dogwood and wild cherry, 
so too, to the roots of sarsaparilla and mayapple. 
For the physicians here are few and far-between. 
The roads, likewise, slow-going. And it falls 
on us women-folk to see to it that our neighbors 
and loved ones are looked after in times of need— 
whether they be young or old, sick or dying, 
or with child. We are the night watchmen. 
It is we who keep the kerosene lamps. 
- Traci Rae Manos
Another thing I'm appreciating about the sculpture is that it's on a human scale and reveals itself gradually. The first thing visitors see coming upon it is the color, shape, and movement. As they get closer, they can see that there are words on the ruffles. As they move the ruffles with their hands they can begin to make out individual words and the stitched threads that make up those words. Different words draw attention to themselves depending on where a visitor is in relation to the sculpture. It's exciting for me to see my poetry move off the page and into a three-dimensional space and meaningful to see the different ways it reveals itself. I love that the more time and interaction a visitor gives to the sculpture, the more the piece reveals of itself. And there's a lot to take in. I think it will unfold and reveal more even upon subsequent visits. Besides the human scale of it and the way it gradually reveals itself, I also appreciate that the poem was embroidered by Danielle, myself, and twenty-two other women—all residents of Northwest Arkansas. I also love that the sculpture has a sheltering feel to it, which I think can represent the compassion and empathy of women for their communities.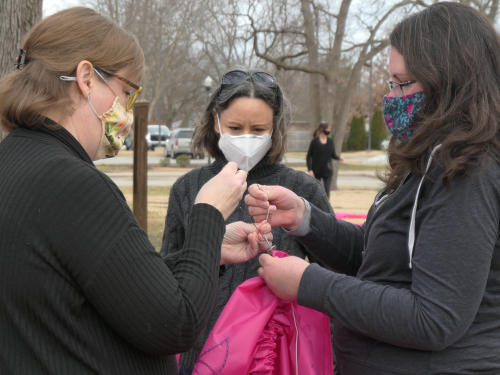 I was born in Siloam Springs and have called Northwest Arkansas home my whole life, so of course I love Northwest Arkansas! There have been lots of changes and growth here just within my lifetime. But even as we change and grow, it's important to me, a sixth generation Arkansan, to honor my ancestors and my roots, as well as the Ozarks itself. One of the things the poem makes me think about is that our modern self-sufficiency is a myth. Not only are we dependent on our neighbors and communities, but we're dependent on the earth. It's easy with our cars, and phones, and wi-fi to lose sight of how truly dependent and connected we are to the physical world. And even how much we owe to those who have gone before us, those who have cared for our physical needs, and for this land. The poem honors the women of Northwest Arkansas, past and present, and the beautiful Ozarks we get to call home. I'm so glad that this poetry sculpture is being shared with the community of Bentonville and all of NWA.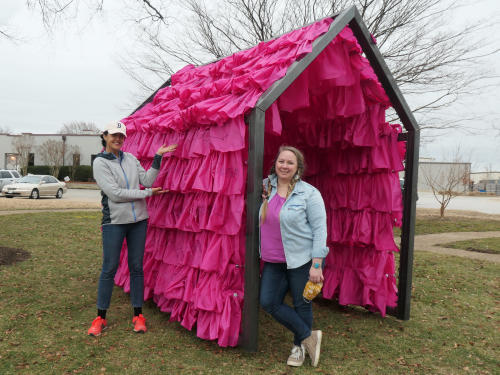 Thank you Danielle and Traci!
On this global day that celebrates women's social, economic, cultural, and political achievements everywhere, we salute all of he amazing women in Bentonville, Arkansas who make our community great!
DANIELLE HATCH
@daniellehatchstudio
TRACI RAE MONAS
@ozarkdaughtermusic
@ozarkdaughter