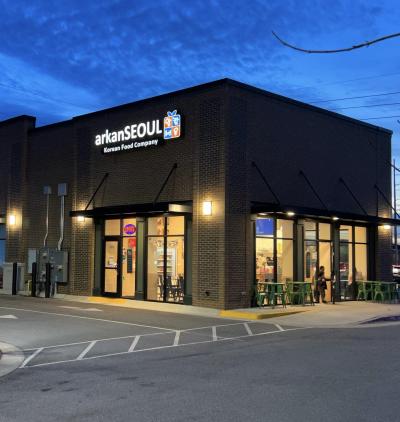 Written by Tae and Soona Choe
Anyeong Ha Sae Yo (Hello)!
ArkanSeoul Korean Food Company's mission is to offer authentic Korean cuisine in a simplified manner. The owners, Tae and Soona Choe, were inspired to open ArkanSeoul to add to the diversity of the growing food scene in the Bentonville and greater Northwest Arkansas community.
We believe diversity is a beautiful thing and should be embraced by all. We see food as a universal gateway that allows people to promote, share, and learn about one another's culture. We relish the chance to share our Korean culture through the food we serve to our amazing customers.
We have been gratefully serving our customers since October 2020. We strive to offer an exceptional customer experience while serving high quality authentic Korean dishes. We opened our doors during the pandemic and decided to present all our dishes in a fast casual and convenient take away format to minimize the contact that occurs between our food preparation and to our customer.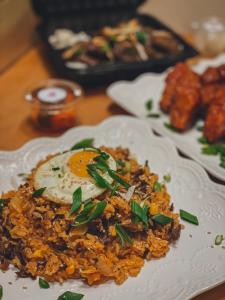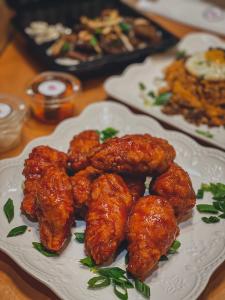 Photos by @IamGastronome on Instagram
If this will be your first time trying Korean cuisine, we're here to help! If you're pressed for time and want a quality meal… we've also got you covered!
Photo by @live_deliciously13 on Instagram
We offer several popular dishes that are based on the foods that we grew up eating in a Korean American household. We are a scratch kitchen with a menu that consists of our hearty dosiraks, bowls, appetizers, Korean fried chicken, and more! Our dosiraks and bowls feature a rice base, an option for proteins such as bulgogi (marinated thinly sliced beef ribeye) and galbi (beef short ribs), along with a rotating selection of banchan (side dishes). Yes, we lovingly serve only house made kimchi! In addition, we offer a unique selection of popular Korean beverages, soft drinks, and snacks. There's a little something for everyone!
We can't wait to see you! Gam Sa Ham Ni Da (Thank you very much!)