Women of OZ's mission is to break down barriers for women in cycling. One of the biggest hurdles is education, so on September 16-17th, WOZ is bringing together the top industry leaders and best coaches in the world for the Sunset Summit in Bentonville, AR – a weekend of rides, clinics, workshops, and panel discussions to build confidence and community on the Momentary Green.  
Women of OZ is a non-profit organization in Northwest Arkansas, whose goal is to create a welcoming and non-intimidating environment for all individuals who identify as women, regardless of background or skill level. WOZ consists of women from all backgrounds, races, beliefs, workplaces, lifestyles, and experiences who love to ride together. Their mission is to get more women on mountain bikes because they believe biking is the best way to facilitate community and fun experiences. Make plans to visit Bentonville and take part in this one-of-a-kind event combining workshops, clinics, and speakers to house the best of the best in Women's Mountain Bike Education!  
In addition to the all-star athletes and agenda, the WOZ Sunset Summit will host two-time Grammy-nominated indie pop band Japanese Breakfast and their technicolor sound and dream pop energy in Bentonville, AR on September 17!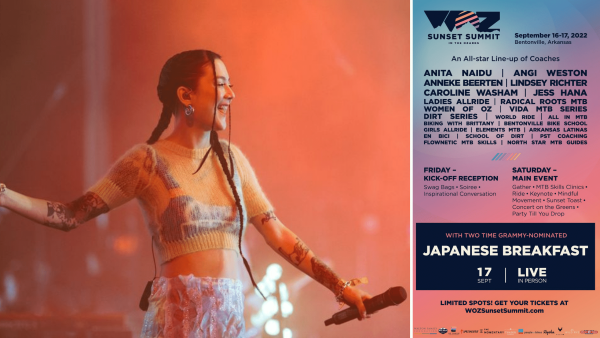 Each ticket will get you:
Two days of events
Group ride/skills clinic with TWO unique coach experiences
Bike workshops, panels, and presentations
One Keynote speaker
One mindful movement session
Women of OZ feature film screening
Swag Bag upon arrival
Free drinks at our Bike Rack Brewing Co. after-clinic party
Free entry to Saturday night concert at the Momentary with two-time Grammy winner Japanese Breakfast
Fostering community and relationships with other women
And much, much more!

Make sure to claim your spot at wozsunsetsummit.com!
To hear more about the WOZ Sunset Summit, listen to our A New American Town Women of Oz episode to hear the OZ Trails team sit down with two members of the Women of OZ; Jenny Brady, Director of Development, and Jess Hana, Women of OZ Coach; discuss upcoming flagship rides, the Women of OZ Sunset Summit, and the wonderful work happening in the Bike Bentonville Community!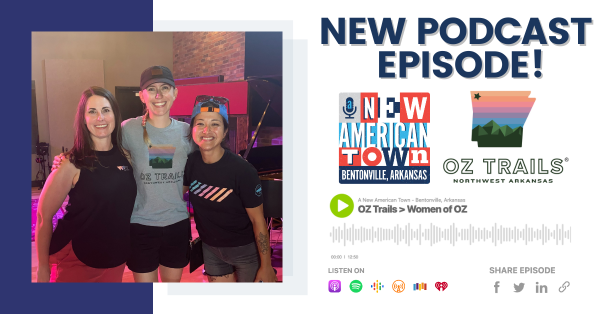 Stay social with WOZ