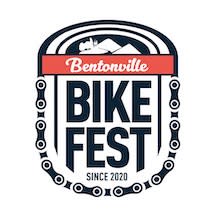 Have you signed up for the 2021 Bentonville Bike Fest (June 18-20)? If not, make sure you register today! 
Recently, Visit Bentonville's, Director of Bike Bentonville, Aimee Ross had the opportunity to sit down with Kenny Belaey, Founder of Bentonville Bike Fest, and one of the biggest names in today's bike scene, to discuss this year's exciting event as part of our New American Town podcast series! As part of the conversation, Kenny was joined by: 
Hans Rey, Mountain bike Hall of Famer & Founder of Wheels 4 Life
Anneke Beerten, 3x Mountain bike & 2x BMX World Champion and Professional Cycling Coach
Crystal Anthony, Liv Racing Collective team member, and Professional Cycling Coach 
Jessy Heard, Local Event Manager Bentonville Bike Fest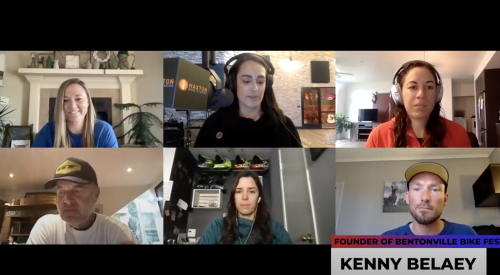 CLICK HERE TO WATCH FULL INTERVIEW
The extensive chat covers how the Bentonville Bike Fest, hosted in the Mountain Biking Capital of the World, was developed out of the success of Women Shred hosted in May 2019, which was the first-ever event fusing a bike festival aimed at women with its roots firmly planted in the world-famous OZ Trails and cooperation with the Bentonville Film Festival.
Following the success of the 2019 inaugural event, this year's Bentonville Bike Fest and will be held June 18-20, 2021.
For the latest details, visit: www.bentonvillebikefest.com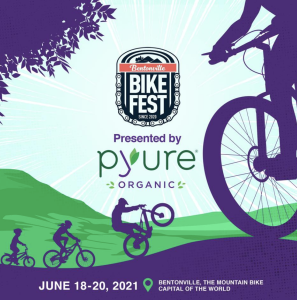 What are you signing up for?
- Women shred workshops presented by LIV cycling (limited to 30 spots, 3*10)
- Style it up workshops with Carson Storch and Mike Hucker (limited to 30 spots, 3*10)
- 24 miles intro to gravel presented by Van Dessel (limited to 28 spots, 2*14)
- 60 miles gravel presented by Van Dessel (limited to 40 spots, 2*20)
- The Pedal to the Medal trials competition (UCI Trials world cup test event)
- The All American race presented by Supernola (limited to 100 riders only!)
- The Slaughter Pen enduro presented by MOJO cycles (limited to 200 riders only!)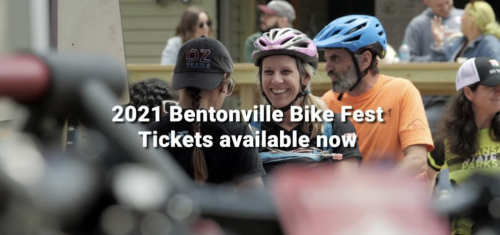 Prefer to listen to the full New American Town podcast interview with Kenny Belaey and team? CLICK HERE